Your source for native plants in Alameda and Contra Costa counties
We are now open for in-person shopping and curbside pickup by appointment on Saturdays - browse our current inventory and order online today:
Maintaining a Native Plant Garden:
Strategies for an Easier Season
One of the most frequent questions asked by people considering switching to a California native garden is, "How do I maintain it?"
Suzanne Carter will give you the knowledge you need.  In addition to tips and tricks, she will touch on various topics like discouraging weeds in the first place by planting smart and gardening without commercial herbicides.
Suzanne has been gardening in the Bay Area for 12 years. She has a certificate in Landscape Horticulture from Merritt College and has done numerous pruning and design workshops. As her company name Urban Gardens suggests, she's geared toward smaller city and suburban gardens.
Join us at Native Here on Saturday, December 11 at 11:00 to learn more. Suzanne will answer questions after her talk. Masks and social distancing required.
The nursery will be open from 10-2 as usual.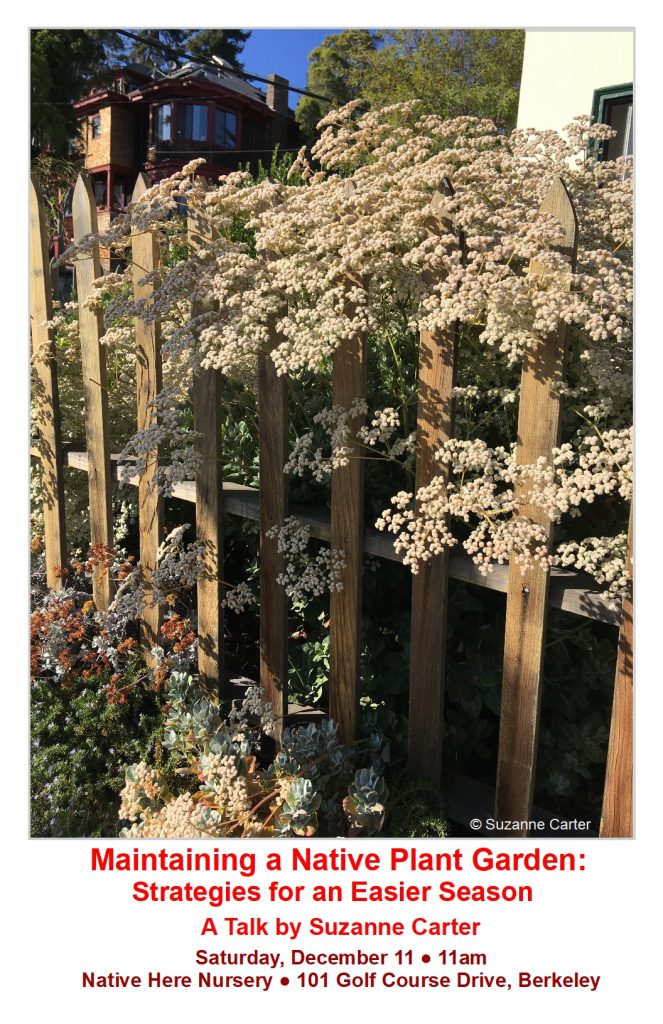 Manzanitas and hummingbird sage now in stock
Native Here will have small supplies of manzanitas and hummingbird sage available starting Saturday, October 16.
To give as many people as possible a chance to buy a few of these sought-after plants, we are imposing a limit of 3 manzanitas (total) and 1 hummingbird sage per customer. Shop online today or in-person at the nursery on Saturday, October 16.
California Native Plant Species
What's going on around the nursery
News stories and event announcements, as well as ongoing progress as we help gardeners and restorationists
Nursery News
A cast of characters did a 'lean in' on the problem of creating a way
Read More »
Nursery News
We are now in the second phase – rebuilding the potting area to make it
Read More »